Meet the Clover Family
Smart, customized point of sale systems that make running your business easier
Manage your business from anywhere.
Streamlined operations
Clover Dashboard is your center of operations, from sales and inventory to promotions and business reports
In the cloud
Access your data anywhere you need to run your business: on the floor or on the road.
Insights at your fingertips
Harness the power of your own data - discover the patterns and trends driving your sales and take a smarter approach to your marketing.
Clover Mini
Starts at $975 and $24.90/month
Modern payments, fast and simple. 7" touchscreen and integrated printer. Connects via WiFi, LTE, or Ethernet. High resolution camera for barcode or QR code scanning features. Includes swiper, EMV reader, Apple-Pay, PIN debit entry.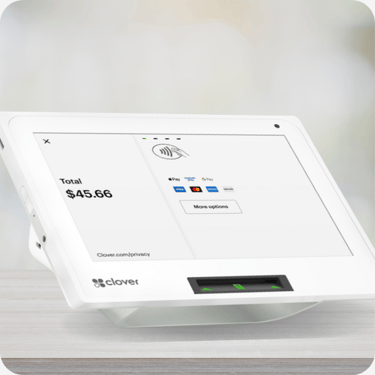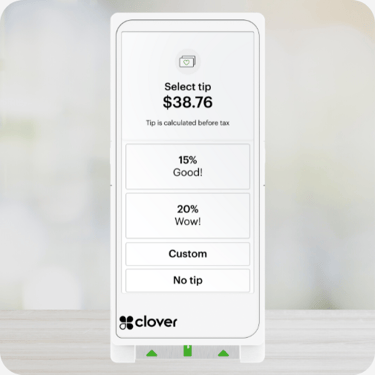 Clover Flex
Starts at $695 and $24.90/month
A complete POS in one compact device. With Clover Flex, you can accept any transaction: EMV, Pin Debit, and Apple Pay. Easily adjust tips and use the built-in barcode scanner to manage inventory. This device has a 5" glass touchscreen, and the battery lasts up to 8 hours. Connects via WiFi or LTE for an additional $25/month.
Clover Station Solo
Starts at $1,850 and $69.90/month
The largest, fastest POS system. The 14" high-definition makes your work fast and easy, from inventory and employee management to payments and reporting. Access to fingerprint login for enhanced security to protect customer data and your business. Works through wireless (WiFi) or ethernet connectivity.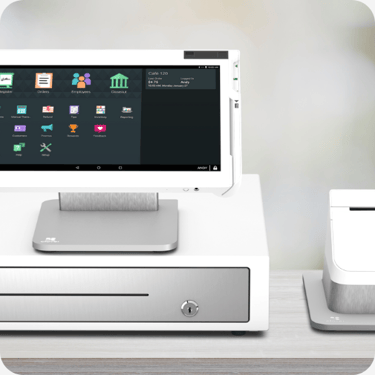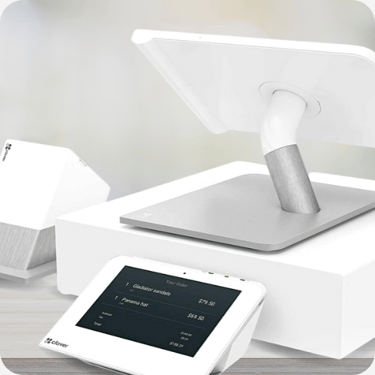 Clover Station Duo
Starts at $2,125 and $69.90/month
A POS that does it all. Utilize one central hub for power and processing. One screen for you and one for your customers. Set up items and categories, move or transfer orders, and add items to partially paid orders easily. You can set up employee logins and access permissions, including fingerprint login and NFC employee cards.
Samsung Kiosk Powered by Grubbrr Clover Edition
Starts at $4,199 and $123.90/month
The Samsung Kiosk gives your customers a seamless self-ordering experience that drives revenue, reduces wait times, and improves the customer experience. The Kiosk increases average ticket size with consistent upsells and is fully customizable to your brand, with a setup that takes less than 20 minutes.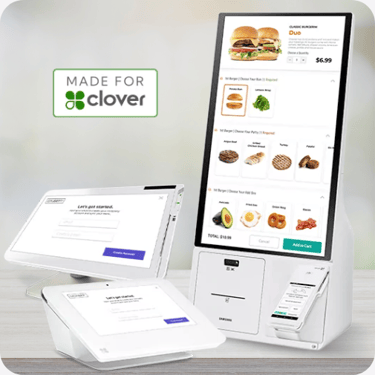 VizyPay Cash Discount App for Clover
Easily implement the Cash Discount program at your business through your Clover POS system. Our Cash Discount app is available in the Clover App Market. Features:
Fully compliant Cash Discount Program
Incentivizes cash payments
Automated price increase, easily sync inventory, integrated reports
In-App "Call Me" option for quick contact with support.
FREE when processing with VizyPay
Let's get your processing
Quick setup. No long term contracts.