During 2020, shopping experiences have been unlike anything we have ever experienced. COVID-19 forced many small businesses to quickly adapt to a new normal in order to survive, implementing new payment processes, moving brick-and-mortar inventory to e-commerce, rolling out curbside pickup and more. As businesses begin reopening for in-person sales, customers will be looking to keep their distance from one another and avoid touching surfaces, making touch-free and remote payment options more important than ever.
There are many options for taking touch-free card payments: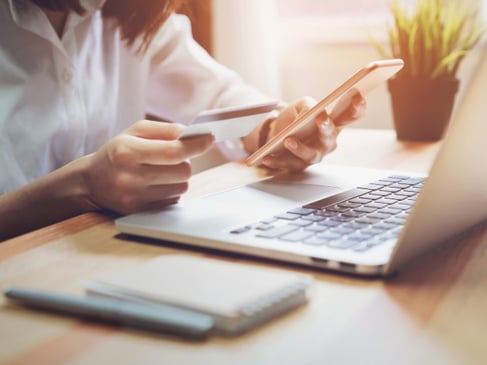 Contactless card and mobile payments (Apple Pay®, Android Pay®, Samsung Pay®, and Google Pay®)
All credit card terminals offered here at VizyPay have the ability to accept contactless or mobile payments like these. They are quick, secure, and contact-free. If you need a device with more sophisticated capabilities like inventory, payroll or restaurant management, our fully loaded POS systems are also equipped to accept this style of payment. For those of you offering delivery, curbside pickup, or any other option that doesn't allow you to operate from within your brick-and-mortar, SwipeSimple is perfect for you. This Bluetooth device connects right to your cell phone so you can accept credit cards no matter where you are! No matter your industry, VizyPay has so many contactless payment options to make sure your business can operate smoothly.
Online, web-based payment options
Moving your brick-and-mortar business online might be necessary to ensure business continues operating smoothly. Through our partnership with Shopify, you can easily build an online website so your customers can have access to your products without needing to worry about face-to-face interactions at all. When you utilize a service like Shopify through VizyPay, you have access to all of the amazing features Shopify has to offer, while taking advantage of the great credit card processing programs that VizyPay can offer.
Recurring payments
Automatic recurring payments are an easy way to accept payment from your repeat customers without any contact at all. Industries perfect for this would be anybody who offers services on a monthly basis. Gyms, tanning salons, and lawn services are all examples of a few industries we see utilizing this option quite a bit. Through our partnership with SwipeSimple you can set up recurring payments with your customers, invoice them, and also accept in person payments all for just $10/month.
Electronic invoicing
Invoices are most commonly used in industries who offer a service of some kind, but during COVID this is a great option to consider. With electronic invoicing your customers can securely pay you through the invoice they receive via e-mail, and you can keep track of their payments in real-time. If you are taking phone orders, sending an invoice is a great option to make sure you get payment before picking up or shipping out.
Give us a call and we can help you determine which contactless payment option would be best for your business! 515-373-8699